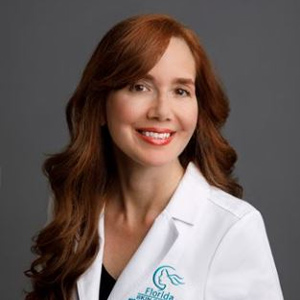 Dr. Anais Aurora Badia, DO
Pediatric Dermatology Faculty
---
Biography
Double-Board Certified in Adult and Pediatric Dermatology and Chief Medical Director, Dr. Anais Aurora Badia, completed dermatology training in Albany, New York in 2001. Shortly after, she founded Florida Skin Center, now part of Advanced Dermatology and Cosmetic Surgery, as a full-service facility with state-of-the-art treatments and amenities.
Dr. Badia's background as a dermatologist and pediatrician makes her uniquely qualified to provide medical dermatology care for patients of all ages, at Florida Skin Center, including newborn babies. The National Osteopathic Pediatric Dermatology Certification Board relies on her professional advice and input at meetings and conferences across the U.S.
Under her direction, this is the only practice in the area to provide narrowband UVB phototherapy for treatment of eczema and psoriasis, as well as Mohs micrographic skin cancer surgery, and dermatopathology services. Our practice is also equipped with a full laser suite, and offers aesthetic dermatology treatments.
While excellence in patient care is Dr. Badia's passion, she is also active in the community. The local Hispanic Affairs Advisory Board has recognized her as Volunteer of the Year, and she received the Congressional Medal of Distinction, a national acknowledgment. Dr. Badia regularly lectures at pediatric postgraduate courses for Miami Children's Hospital. The American Association on Anti-Aging Medicine values her services as a national speaker. She lectures on a variety of dermatology topics, at local and national levels, and her work has been published in leading pediatric and dermatology journals.