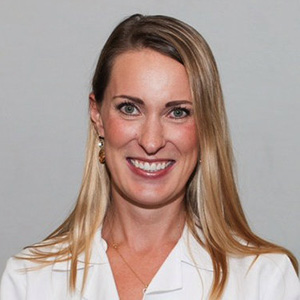 About doctor
Kristen E. Schmits, MD
Dermatopathology Faculty
---
Biography
Kristen E. Schmits, M.D. is board-certified in Anatomic and Clinical Pathology and Dermatopathology and is a practicing dermatopathologist. Her clinical interests include infectious diseases, hematopoietic malignancies, primary skin neoplasms, and alopecia. Dr. Schmits works tirelessly to ensure that all patients receive the most accurate diagnostic information in the most timely manner possible. She prides herself in treating every case as if it were her very own, ensuring the most appropriate and cost-effective diagnostic work-up. She enjoys discussing cases with her clinical colleagues and is happy to answer questions from clinicians and patients alike.
Dr. Schmits was born in Chattanooga, TN, and grew up living on Signal Mountain, TN. She was accepted to Yale University in 2003, and graduated with a double major in French Language and Behavioral Neuroscience in 2007. During her time at Yale, Dr. Schmits spent four months in Africa doing malaria research at the Albert Schweitzer Hospital in Lambarene, Gabon. During this time she decided to pursue a career in diagnostic medicine. After graduating from Yale University, she returned to Tennessee to attend medical school at the University of Tennessee Health Science Center in Memphis, TN. During medical school, Dr. Schmits spent 2 months doing malaria research at the World Health Organization in Geneva, Switzerland in the Tropical Disease Research unit. She graduated medical school in 2011 and then moved to Gainesville, FL for residency training in Anatomic and Clinical Pathology at the University of Florida. During her residency training, she completed an away rotation at the Ackerman Academy of Dermatopathology in New York. After four years of residency training, Dr. Schmits completed a subspecialty fellowship in Dermatopathology, also at the University of Florida, Gainesville. Following completion of her training, Dr. Schmits spent one year serving United States' veterans and teaching UF pathology residents as a staff pathologist at the Malcom Randall North Florida / South Georgia VA Medical Center. She then joined Advanced Dermatology and Cosmetic Surgery as a dermatopathologist in July, 2017.
In her spare time, Dr. Schmits enjoys spending time outdoors with her family, playing the violin, painting, and singing karaoke. She is fluent in French and speaks basic Spanish. She aspires to one day open her own hospital and pathology laboratory in West Africa.